So, your business is booming and is now transitioning from a small business to a medium-sized business? Now, as you can experience it yourself, handling a company with over 300+ employees is a difficult task. And the same is the case with the HR department. The change happens not just in the number of employees, their jobs have also become complex, with more locations, different compliances in different states and increasing expectations from employees as the company grow.The whole organisation works together with a zeal to get to the next level of success. And HR is a vital part of this. After all, a growing organisation needs to hire new employees, train them and also see that the company culture remains healthy. We suggest software is a must for HR teams in growing organisations. That will make their tasks easier, and they will be able to support CEOs better.
Because the HR team deals with a huge number of records and things to keep track of. Such as payroll, attendance, leave and so much more that pertains to the data tracking of employees. Equipping them with the right HRMS software will help them do better workforce planning, time tracking, and employee engagement activities.
There is a definite point of leap from the small to mid-size growth curve of all businesses. The right HRMS software will help take that leap smoothly. OpportuneHR is the HRMS software used by many such organisations.
What are the Issues Addressed by the HRMS Software to a Medium Sized Business?
Leadership –

When a business starts growing due to good quality products, recognition of the brand in the market, or the growth of the industry as a whole, the demand goes up. While leadership invests in machinery and technology to achieve good results, people management becomes an issue. More than administration, HR's job becomes policymaking and human resource productivity planning. Enterprise HRMS software takes care of the operational tasks. And also help the HR with analytics and data that helps in decision-making.

Employee performance:

When the organisation grow, everyone must understand their growing responsibilities. Employee

performance

must improve.

HRMS

helps with mapping employee skills and rating in various areas. Training and development become easy to plan.

Culture –

Having a positive work culture is extremely important for a workplace. A healthy workplace ensures happy employees. A well-designed rewards & recognition practice can be implemented on the HRMS, allowing HR to improve the culture around the work place.

Putting the employees first –

Employees are the backbone of the system and keeping them happy and satisfied is a major task on the hands of the HR department. For example, if there is a discrepancy in the payments, or any information about the employee, the work will be affected. The

payroll module

in HRMS ensures accuracy. There are many such use cases, from joining to exit, where employee experience has to be in the forefront.

Measuring Performance –

Periodic

performance feedback to employees is very important for organisation growth.

​​​​​​​

Measuring the performance

of an employee even helps to transparently decide their increments, promotions and other policies. Automation makes the job easier, because managing physical employee records is a cumbersome task and might also raise the issue of favouritism.

Having an HRMS software saves hassle and saves a lot of time.
How do you know that it is time to invest in HRMS software?
An interesting analysis is put up on firsthrservices.com. It states, when a business grows from 50 to 300 over a couple of years, the organisation needs structure & HR technology. HR team can be taxed with a load of data management, compliance codes, resumes, tax calculations, attendance, leaves and so much more. Employee self-service, multiple levels of leave and other approvals make the HR function fast and transparent.
Legacy methods, such as maintaining files for each employee or keeping a check of each and every application, become overwhelming. When you see your good HR managers struggling, it is surely time to shift to a good HRMS solution.
Any good HRMS system on the cloud will ease the operational jobs. These cloud-based systems can be accessed anywhere, anytime and by anyone from the team. With a good mobile app, even the sales and field staff will be connected with the main dashboard. No need to talk to them individually and upload and insert their data separately.
The salary of employees is a big chunk of organisational costs. Budgeting and controlling these manpower costs helps HR and the organisation a lot. Having an HRMS software will help reduce the load of work and ensure there is less human calculation errors.
An HRMS software analyses the data entered in the system & populates on dashboard and helps HRs from mid-sized firms make quick and informed decisions. Their role shifts from administration and routine HR tasks to policymaking, creating a healthy work culture and supporting the CEO in strategic matters.
Additionally, the cutting-age technology– AI, Machine learning, data analytics, bots etc. helps companies stay ahead of the competition & attract talent.
OpportuneHR's industry focused HRMS software addresses even the industry related unique scenarios. Its powerful and flexible rule engine helps the HR team to configure even the unique organisational HR processes and policies.
Here are some features and benefits of the OpportuneHR HRMS software:
Linking payroll software with time recording

Using payroll software for reporting

Storing personnel records

Using a payroll system to plan future costs

Minimize Errors

Security of Payroll Data

Provides Tax Updates

Enhances Productivity and improves efficiency

Managing Large Numbers of HR transactions

Technical support

Based in the Cloud

OpportuneHR comes with in-built intelligence to compute and perform

OT computation

Mobile application

Cutting edge technology for HRMS teams

​​​​​​​​​​​​​​​​​​​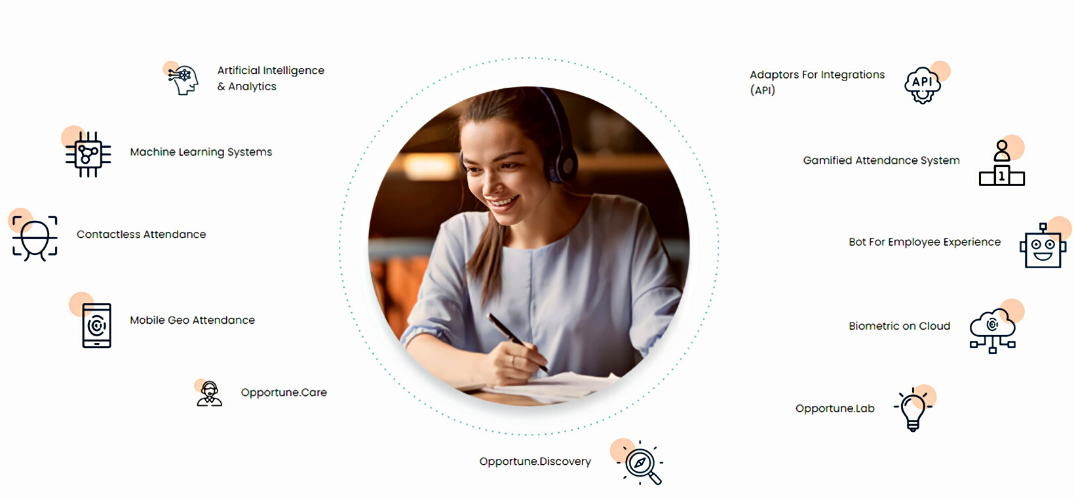 Isn't it obvious? HRMS software is a must for growing organisations!
An HRMS system helps medium-sized growing businesses attain better employee performance. And also enhances employee HR experience. They take care of core HR functions, everything from hiring to full and final settlement. Timesheet management and attendance capturing on cloud, payroll management, and quick recruiting and onboarding of new employees helps the organisation evolve faster.
It provides a powerful dashboard as per the HR managers' needs and rights. These dashboards give you a real time picture of people on the shop-floor and the marketplace.
A feature-packed HRMS software like OpportuneHR is extremely user-friendly and has additional features to set up the team with every need possible. With the 15% HR automation framework, OpportuneHR helps address the unique HR needs of the organisations.
With changing times and digitization of each and every sector, having an HRMS software is a no-brainer for growing, mid-size organisations.
(Visited 155 times, 1 visits today)