You might be smiling, how can one claim to be the best attendance software in India, when there are so many out there?
While it seems tough to sift through the large numbers of attendance software in India, it is also not so difficult. Because there is a ladder of features, qualities and design philosophy which tells us the better software programs from the rest‐‐ OpportuneHR!
Here is why‐‐
Many companies use traditional methods like desktop attendance software. This needs manual intervention and updates regularly, so these are out of the 'best attendance management software' race. They just perform the basic tasks of access management, attendance capturing, and needs a lot of to and for operations, requires manual interventions.
Then the next level of attendance management software are standard cloud-based attendance software programs which can take care of multi-location attendance, include timesheet software management, and also give good employee experience.
How is OpportuneHR better than them? You must be curious!
Read carefully‐‐here is the real difference‐‐While all good cloud attendance software have almost the same feature list, these software's can address only 85% of generic HR scenarios. (Not their fault, it is the limitation of automation.)
So, these well known attendance systems fail miserably under the 'unique HR scenario' challenge. Scenarios which are industry specific, or organisational.
OpportuneHR is an exception: Because it is designed on the 15% Unique HR Automation Principle. And it addresses unique attendance-related scenarios in all kinds of industries, from manufacturing to hospitality to defence and IT. Name any industry, OpportuneHR's attendance platform Cuckoo Tech will be the best performer.
Some Key and Advanced Features of OpportuneHR's Time and Attendance Management System
OpportuneHR offers features like Geo-Fencing, Rule Engine, And Real-Time Attendance. A few of the notable features of our state-of-the-art technology are as follows: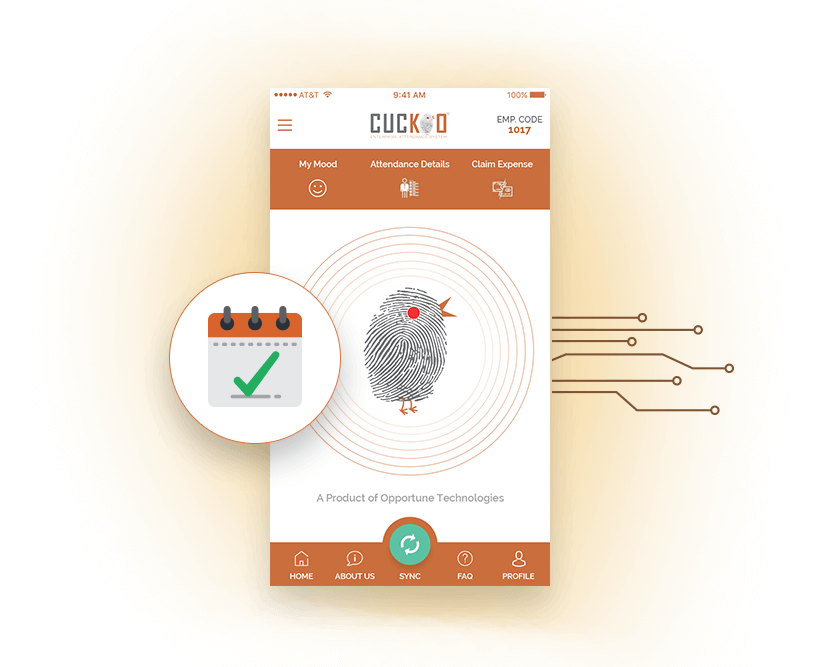 Zero contact attendance: our online attendance system offers features like face detecting and geo attendance through mobile devices. The contactless attendance system with a signature 'Cuckoo' attendance module also comes with work-from-home time sheets for marking attendance.
Rule integration : OpportuneHR's time and attendance management system comes with a powerful Rule Engine. It makes a huge difference in industry specific scenarios.

The rule engine involves more than 30 configurations featuring rules such as late-coming policies, working hours, short working hours, OT (overtime) rules, weekly leave rules, and more. All these rules are defined and mapped as per company policies, working locations and grades.
Mobile apps with a difference : OpportuneHR's mobile phone app Cuckoo Tech works on all phones. It comes in Android as well as iOS version.

The geo-fencing enabled app can mark attendance even in weak internet zones. In offline mode, too! Yes, you read that right.
Enterprise attendance : The software creates accurate results for payroll by tracking paid days. The system also considers attendance regularisation requests from employees, OT approvals, compliance registers, shift planning, and absconding alerts.
Gamification : The OpportuneHR attendance platform ensures employee engagement by offering a gamified platform. Users can earn points by marking and regularising their attendance. It also comes with a Leader board and winner announcement features. It is not just a fun feature, we have seen, it improves the productivity of employees.
Other features : Apart from features like fake finger detection, OpportuneHR also has a cloud-based finger template. Which means once a finger is registered, it can mark presence in other premises without re-registering.
Benefits of OpportuneHR's time and attendance software
With the above features, OpportuneHR guarantees greater work productivity as employers can now get the following benefits from the software.
Real-time attendance tracking and data reliability
The software allows tracking employee location using Geo tagging and GPS. In this way, one can track employee attendance with real-time location data. It also helps to track off-site client meetings and more. The Geo fencing technology also allows employers to capture attendance whenever the employee enters the office.
The reliable data produced by the software prevents human errors and attendance-related malpractices.
OpportuneHR ensures organizations acquire maximum productivity by reducing manual efforts, helps in shift planning, and reduces errors in payroll and compliance. It ensures a company can utilize its workforce to carry out crucial tasks rather than working on redundant manual tasks.
Fosters a transparent work culture
Employees have access to their data with an automated time and attendance system. They can get an idea of their attendance records, salary slips, balance leaves, and more. This way, every employee can plan their schedule better. As employees get track of their data, they can feel motivated, and their productivity increases, ultimately fostering a productive work environment.
The Covid-19 pandemic has encouraged hybrid work culture. Also, new work scenarios are evolving. Remote employees are now a norm.
Time and attendance tracking systems must be adaptable to multiple changes and cater to both in-office and work-from-home staff. We offer automated attendance solutions using desktop and mobile applications, facial recognition software, biometrics, and more.
Plus, we are open to customize the solution as per your evolving attendance policies.
Cost-saving attendance management solution.
A T&A tracking system potentially reduces paper usage just like other OpportuneHR solutions like HRMS and payroll software. By automating core activities performed by HR personnel and by using cloud systems, the software is a cost-effective option for lowering additional resource costs.
Moreover, it prevents attendance tamper issues, discourages proxy attendance by rejecting proxy fingers. This fosters discipline. And saves good money for the organisation.
It also saves costs by capturing the actual presence of contractor employees, thus leading to correct billing from contractors.
With a plethora of software available, it is essential to consider T&A module's integration into existing ERP systems. Opportune's API-based solution helps integrate with all good ERP systems. SAP integration is one of them.
Highlights of OpportuneHR's attendance software
As a business, it is essential to understand how employees allocate their time and ways to maximize performance with different resources. It is crucial to make use of data and employee statistics.
OpportuneHR's time and attendance tracking system helps you to leverage data and optimize everyday business processes by offering the following:
Robust attendance engine that enables monthly attendance locking and approval
Additional attendance functions like shift or roster scheduling, attendance regularization, reports, MIS, alerts, etc
Solutions offered by attendance domain experts like PAN India support, biometric or cloud implementation, API attendance integration, and more
Final thoughts :
It is vital to employ the best attendance software in India like OpportuneHR to save capital costs and promote a healthy work culture.
And beats other known names with its user-friendly user interface, 15% unique scenario principle design, and ability to customise for any complex scenario.
The system aids track employee work hours, leaves, clock-in and clock-out time, and more.
The best attendance management software– OpportuneHR T&A management system works seamlessly, and empowers the HR team.
(Visited 119 times, 1 visits today)