This guide covers:
What is the meaning of onboarding in HR parlance?
What is a good and effective employee onboarding process for new employees?
Importance of effective onboarding process.
Employee Onboarding Checklist.
Administrative tasks required for onboarding.
The effective onboarding formula.
Onboarding as part of employee experience (EX).
Mistakes to avoid during the new hire onboarding process.
Progressive onboarding practices for positive onboarding experience.
SME onboarding essentials.
Resources and references for employee onboarding.
Onboarding challenges and remedies for remote onboarding.
Role of employee onboarding software in new hire onboarding.
What Is Employee Onboarding?
Employee onboarding is a crucial process that introduces new employees to the company and its work culture. It is an orientation program designed to provide essential information to new hires regarding the company's mission, vision, and values.
This process typically occurs during the initial stages of employment, and is a critical part of the training and development program for organizations.
The aim of employee onboarding is to ease the transition of new hires into their roles, help them understand their job responsibilities, and prepare them for success in the workplace.
The importance of effective onboarding
There are 2 aspects which make the onboarding process significant.
1: Many employees leave the organisation during the first 6 months of employment in a company. The new hires decide to leave or continue in the organisation in the first few months.
So, a good onboarding helps increase the retention of employees.
2: A successful onboarding process results in increased employee engagement, retention, and overall job satisfaction.
An effective employee onboarding process is the best way to ensure that new employees feel welcome, comfortable, and motivated to contribute to the business' objectives.
Well-planned onboarding is a vital factor in lowering employee turnover.
What constitutes employee onboarding?
It typically comprises new hire orientation, induction, and a welcoming process that introduces the new employee to the company's structure, vision, and values.
The initial welcome and employee orientation process usually takes place over the course of a single day. The employee is given a general overview of the organization.
Induction, on the other hand, is the method used to introduce the new employee to the company and the employer. It may involve a PowerPoint presentation, one-on-one welcome meetings, and an orientation session.
All these processes aim to bring the employees up to speed with the company policies, procedures, and their rights. A prerequisite for setting a strong foundation for a healthy working relationship.
Most companies stop here. But good companies with a focus on great employee experience continue the process for about 3 to 6 months. They engage the new employee in various training programs, seminars, and learning opportunities.
The onboarding process for new employees can take on a formal or informal approach :
| Formal Onboarding | Informal Onboarding |
| --- | --- |
| Formal onboarding typically involves a structured program with a standardized orientation and training curriculum, often led by HR. | In contrast, informal onboarding is less structured and more flexible, with new employees learning about the company culture and interpersonal relationships through interaction with co-workers. |
| This method is ideal for organizations that have a high volume of new hires or require specific compliance and safety training. | This approach is often favoured by startups or smaller companies where a personal touch is valued. |
Both formal and informal onboarding have their advantages, and the choice of method depends on the organization's goals and culture.
Our recommendation:
A structured formal process gives confidence to the new hire.
In the initial week, a new hire should go through a structured and scheduled program. This gives them a sense of professionalism in the organisation.
Later on, the process can be less structured.
Opportune's 0-1-7-27 Onboarding ApproachWe have devised a formula to get the most out of an onboarding process: 0-1-7-27. It is based on our practical experience based on significant milestones in employee onboarding.
0: Pre-onboarding. Before the employee joins the organisation. The time between him accepting the job and actually joining.
1: Day 1 on the job
7: First week or the 7 first days on the job
27: First 6 months or the 27 weeks on the job
Many employees make a decision to leave the job in the first 6 months. That's why 27 weeks is an important time period for increasing the retention chances of employees in an organisation.
Day 0: Often also called Pre-Boarding
Pre-Boarding is the period of time between a candidate's acceptance of a job offer and their first day on the job.
This phase is crucial in the employee onboarding process, as it provides an opportunity for the organization to prepare the incoming employee for their role and integrate them into the company culture.
Pre-Boarding activities can include –
–Sending welcome letters.
–Providing access to company resources.
— Introducing the new hire to their team.
A successful Pre-Boarding process can set the tone for the employee's entire experience with the organization, leading to higher levels of engagement and retention.
Many employees make a decision to leave the job in the first 6 months. That's why 27 weeks is an important time period for increasing the retention chances of employees in an organisation.
By investing in Pre-Boarding, companies ensure a smoother onboarding process and a more positive overall employee experience.
Here's Which Crucial HR Documents Need To smoothify On-Boarding Process
With an effective Pre-Boarding, when an employee comes to the office on day 1, he knows some of the key associates. He starts with a sense of certainty and friendliness.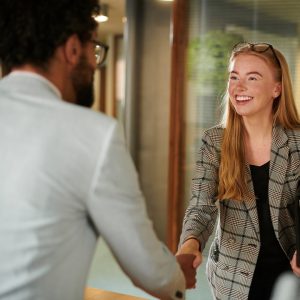 1: First day on the job:
The first day on the job is very important for the new employee as well as the organisation. It's the day the candidate becomes a real employee. It sets the tone for the new hire's experience and can have a lasting impact on their engagement and retention.
To ensure a successful first day, employers should prepare all necessary paperwork and have a workstation, supplies, and equipment ready for the new employee.
A schedule should also be created for the day, with time allotted for introductions, training, and any necessary meetings.
Direct managers play an important role in onboarding. Sometimes they wish to put the new hire directly into their work agenda, even on day 1, bypassing the onboarding process. That's not advisable.
Welcome Kit!

Providing new employees with a kit or gift on Day 1 makes them feel valued and appreciated. The kit can include company swag, a welcome note, and useful information about the company.
Introduce the Company

On the first day of onboarding, it's important to give the new employee a proper introduction to the company. Company history, company values, vision and mission statement. As well as tell them about any milestones achieved. Facts which instill in them a sense of pride in their new organisation. It also introduces them to the organizational structure, and key personnel in the company.
Explain and provide Company Policies

The new employee should be provided with all company policies, including the employee handbook, code of conduct, and any other important policies. Make sure they understand the company rules. This will ensure that they understand the expectations of the company from the beginning.
They should be clear about their job description, employee rights, and various dos and don'ts.
Access details and other office documents

Do give a new employee access details to the workspace, employee dashboard, and their job description. Also, create a company email address for them. If their role needs office stationery, or visiting cards and other such stuff, initiate the process.
Orientation to the Workplace and Job Duties
The new employee should be given a tour of the workplace and provided with an overview of their job duties. This will familiarize them with their work environment and give them an understanding of what is expected of them.
Assign a Mentor and a buddy
Assigning a mentor to the new employee can be extremely beneficial. The mentor can help answer questions and provide guidance, ensuring a smooth transition into the company. While onboarding buddy will be readily available for any queries related to their day-to-day queries.
Introduce the Team
Introducing the new employee to their team is an important step in the onboarding process. This will allow the employee to put faces to names and begin building relationships with their coworkers.
Set Goals and Expectations
It's important to set goals and expectations with the new employee from the outset. This will ensure they understand what is expected of them and what success looks like in their role.
Provide Necessary Resources
Provide the new employee with all the necessary resources to carry out their job duties. This includes any necessary equipment, software, or training materials they may need.
7: First week on the job
While day 1 often goes into paper work and documentation, and general introductions, the rest of the week provides an opportunity to create relationships.
This often happens spontaneously, but progressive companies plan activities too, to make the employee experience better.
Some of the activities recommended for the first week –
Schedule a team lunch or meal
A good meal can put anyone at ease. Scheduling a lunch or meal with the new employees can give everyone in the team a chance to get to know each other and build rapport.
Create an Agenda for the First Week
Having a clear agenda for the first week can help new employees feel more confident and comfortable in their new role. This can include job training sessions, departmental meetings, and getting to know their colleagues.
Buddy can take a quick review every day, if the new hire needs any help.
The HR Many new hires hesitate in asking for facilities. They don't ask questions, thinking it might look silly.
The HR team can take care of their transportation and stay needs.
Many companies provide the new hire with stay facilities for a week or so. It helps, as the employee can focus on the job in spite of worrying about where to stay. HR team can also help them by introducing them to other employees who might be travelling the same route.
27: First 6 months
The first few days are light. But then as the employee gets into the full flow of work, he or she experiences the work culture. Evaluates the new job with his expectations. Often compare things with his old job.
It's good to get feedback from the employee in about 3 months. If they are facing any problems, it should be handled on a priority basis.
If there is a need for attitudinal changes in the employee, he or she should be consulted.
If he is facing any challenge, or competency gaps in doing the job well, training and development intervention should be arranged for them.
A one on one or group meeting of new hires with the company CEO or other higher official makes a lot of difference. It boosts the morale of the new employees, and they feel more connected to the organisation.


Tips for better onboarding of employees:
1. Start with a clear process: Having a structured step-by-step onboarding process is essential. It lays out what needs to be done when a new employee is hired and who is responsible for each task.
2. Prepare the workspace and equipment: Before the employee arrives at office on the first day, make sure their workspace is ready and equipped with everything they need– Gadgets, stationary, office supplies.
3. Introduce the team: Arrange for the new employee to meet their colleagues and other team members. This will help them feel more comfortable and part of the team.
4. Provide orientation and training: Orientation and training are essential for new employees to understand the culture and policies of the organization. Provide all the necessary resources for the employee to upskill and develop themselves professionally.
5. Establish clear goals and objectives: It's good to let the new employees understand what is expected of them and how they will contribute to the organization's goals.
6. Assign mentor or buddy: Assigning a mentor or an onboarding buddy can help the new employee integrate quickly and smoothly. They have someone to turn to for guidance and support.
7. Review policies and procedures: Review policies and procedures to ensure the new employee is aware of the organization's rules and regulations.
8. Provide ongoing feedback: Provide ongoing feedback to the new employee to help them improve and grow in the position.
9. Conduct a 30/60/90-day check-in: A 30/60/90-day check-in will help the new employee and their manager identify any potential issues and ensure the employee is on track to meet their goals.
10. Celebrate milestones: Celebrate milestones with the new employee to show appreciation and reinforce a positive work culture.
A special note for SME enterprises

Small and medium enterprises are low on bandwidth. So, many of the onboarding activities suggested may seem overwhelming to you.
We have a strong suggestion here. Rather 3!
1: Implement HRMS software in your organisation. Human resource management system gives a professional experience to new hires. Also, quick access to company policies and documents creates a good first impression.
2: Even if you do fewer activities, focus on making a structured onboarding experience.
3: You can engage services like FirstHR Service. They focus on SME organisations and help you create a professional HR structure for your organisation. Not just onboarding, they can help you with top-notch employee engagement, too. At a SME-friendly budget.
The essence of Onboarding is well captured by McKinsey–
Workers are hungry for trust, social cohesion, and purpose.
They want to feel that their contributions are recognized and that their team is truly collaborative.
They desire clear responsibilities and opportunities to learn and grow.
Now many companies work in hybrid work mode. Which means a significant number of employees might be working remotely. Onboarding remote employees poses special challenges.
Let's have a look at those challenges and various ways of handling them.
1. Challenge: Lack of Face-to-Face Interaction
A lack of face-to-face interaction can cause communication barriers and make the onboarding process difficult.
Remedy: It is important to set up regular virtual meetings between the new employee and their manager, as well as with other team members. Utilizing video conferencing services can help to make the onboarding process more personal and allow for a stronger connection between team members.
2. Challenge: Lack of Access to Physical Resources
Remote employees may not have access to physical resources, such as company equipment or a physical office space.
Remedy: Employers can make use of cloud-based resources, such as access to company software or files. It ensures that remote employees have everything they need to effectively do their job.
Additionally, providing a stipend for home office equipment can help to make remote working more comfortable and efficient.
3. Challenge: Time Management
It can be difficult to manage the time of remote employees, especially if they are in different time zones.
Remedy: Employers can create a clear schedule for the onboarding process, assigning tasks and deadlines to new employees, and allowing for flexibility in the work schedule if necessary.
4. Challenge: Lack of Socialization
Remote employees may feel isolated and lacking in social interaction, which can lead to feelings of disengagement and reduced productivity.
Remedy: Encouraging remote employees to connect with other team members through virtual team building activities or informal virtual meetups can help to create a sense of community and promote engagement.
Many companies also invite remote workers for office meetings and special events every 30 to 45 days. It gives them an opportunity to meet other team members, and creates a feeling of belongingness.
5. Challenge: Lack of Direction
Remote employees may struggle to understand the company culture and expectations, leading to confusion in the onboarding process.
Remedy: Providing clear guidelines and expectations during the onboarding process. Assign a virtual mentor or buddy to new employees. It ensures that remote employees feel supported and connected.
Here are some onboarding nuggets from HR thought leaders–
1. Onboarding isn't just an event but a process.
2. Onboarding is the most crucial step in new hire recruitment.
3. Onboarding isn't an operational step. It is part of the positive employee experience.
4. Effective onboarding can increase retention rates up to 82%.
5. Investing in a great onboarding process should be a priority for CIOs. Automation platforms like HRMS can help a lot in creating a better employee experience. As it makes the mundane tasks easy and smooth. Gives a professional experience to the new hire.
6. Systemic integration, personalization, and differentiated phasing are the future of onboarding according to Michael Watkins, the author of 'First 90 Days.
7. Leaders should set an example and encourage tenured employees to reach out to new hires. That helps.
8: Check-ins with new hires should be included in the list of leadership responsibilities.
9. Onboarding doesn't stop at the end of the first week or first month. It involves training new employees for several months to familiarize them with the company and their roles.
10. HR must perform onboarding surveys from time to time, and should get feedback. It will help to evolve the effective onboarding process for the organisation.
Common Employee Onboarding Mistakes
Unfortunately, many organizations make avoidable mistakes during this stage, which can lead to disengaged and unproductive employees. Here are common employee onboarding mistakes you should avoid –
1. Failing to set clear expectations and goals.
2. Focusing too much on paperwork and bureaucracy instead of employee integration in the organisation.
3. Overwhelming new hires with too much information too soon. The onboarding process should be extended over a time period.
4. Skipping or rushing orientation and training programs.
5. Not providing enough support and guidance during the adjustment period.
6. Ignoring feedback and failing to make necessary improvements.
7. Neglecting to assign roles and responsibilities clearly.
8. Failing to offer incentives or recognition for a job well done.
9. Not measuring the effectiveness of the onboarding process.
An unplanned onboarding surely has a negative effect on employee retention. So, it's crucial for the human resources team to get the employee onboarding process right. Any mistakes here make their jobs tough.
Advance strategies:
Treat employee onboarding as employee experience. Let them feel important.
Paper work is often boring. So make deliberate efforts to make the onboarding process fun.
Give onboarding a personal touch. Involving employees in activities where they can showcase their strength early on will boost their morale.
Taking care of new employee's teething problems like finding a place to stay, easing their travelling woes and such other factors makes them feel good. They can put
A meeting of all new hires with the company CEO has a huge impact on enhancing belongingness to the company.
Conclusion:
Onboarding isn't a one-time event. It is a process. A structured and planned employee onboarding process has a huge impact on the positive experience for the new employee. It increases retention, decreases employee turnover, and results in better employer branding. It helps increase employee satisfaction levels.
It also helps the new employee to understand the company structure, company culture and expectations from him in the short term and the long term. He or she gets to know the team members as well as key people in the organisation.
Effective onboarding programs ensure the involvement of senior leaders and current employees, along with the HR team. That's why companies are adopting mentorships and a buddy system as part of their onboarding program.
A hire onboarding checklist ensures that all vital elements for a good employee experience are covered.
HR automation platforms can make the onboarding process easy to follow.
(Visited 488 times, 1 visits today)