Digitization has an enormous impact on all spheres of work and livelihood. Every industry is vying to adapt new strategies and technologies to keep up with the changing world, and the manufacturing industry is no different.
Then, why do many manufacturing companies are still lagging behind in introducing modern HRMS system?
Why do they still work with legacy systems, desktop applications and excel sheet uploads?
The reason is, the HR managers in manufacturing companies feel, maybe the standard solution are not good enough for their industry. They have doubts if a universal HRMS solution can pass the tough manufacturing HR demands.
To develop an in-house, customised solution for their company is expensive and too much of an hassle. So they compromise with old ways of doing things.
Our proposition is: With modern HRMS solutions, in-house development is no more needed.
Let us see, what are the specific manufacturing sector challenges, and to what level a standard HRMS can address these complexities of manufacturing sector? And what unique scenarios need a customised solution?
A wide variety of human resources
The manufacturing industry hires the most diverse workforce from blue collar to white collar. They have semi-qualified to highly qualified workers managing daily tasks.
Managing the data of such a large number of workforces can be overwhelming, which is why a customized profile for every employee is needed for a smooth process. HRMS ensures clarity during the time of compensation.
Implementation of such software ensures that there is no proxy attendance and each employee has their own identity. This also helps the company to save a huge amount of money.
Compliance is complex in the manufacturing industry
HR compliance is the process of setting rules and defining policies to ensure the company's expectations are in alignment with the applicable regulations.
It includes matters like when and how to pay overtime, employee documentation that must be maintained, administering benefits, hiring procedures, and separation policies.
Since the policies are strict and different for blue collar workers and the management grade employees, it can be quite tedious to track and maintain them all using traditional modes of organization. On top of this, the policies keep changing.
Automated HRMS software helps ease this process by keeping track of the records from various departments, builds a checklist without the hassle of wordy documents or unorganized files to avoid penalties.
Overtime and 24/7 nature of the industry
Manufacturing goods is a 24/7 process for some large scale companies. With the excessive amount of responsibility in the industry, certain employees are bound to work overtime. There are also many contractors that are taken on board to complete certain tasks.
With such varying levels of labour and skill being put to use, it can be difficult to keep track of the hours, progress of work etc. of each person. But with an HRMS software, all these details can be kept in check at the time of calculating the wages, taxes, incentives, and leaves. It makes sure the employee benefits are given to them without any human bias as well as promotes honesty in the workplace.
Union involvement in compensation
Workers Union is the representation of all the employees who are working under an employer. They ensure the employees are treated fairly and are given a fair pay scale.
It's clear from such a description that any errors in communication or compensation can result in an unnecessary rift between the organization and the union.
Now, many of these issues are solved by standard HRMS solutions, to a certain level. But the HR managers in manufacturing companies cite the below mentioned pain points, which aren't taken care of by standard HRMS solutions—
They say, workmen union salary, attendance tracking & contractor workers management is very complex for organisation involved in manufacturing activities.
CTC structure design as per workmen agreement is complex. Salary heads are calculated on daily basis & on pro-rata.
Contract employees attendance for billing & compliance adherence is mandate as per statutory acts.
Calculation of OT hours & multiple rate calculation as per hours worked is complex
Challenge in handling of high volume attendance marking during shift change & break times.
Maintenance of compliance registers as per factories act.
Good news is, OpportuneHR addresses these tough scenarios as well!
To address these issues we have introduced following features and processes in OpportuneHR
You as an HR manager can configure complex attendance rules, and process high volume of daily punch data
Implementation of roster for IN-OUT timing, Out for Lunch / In from Lunch using extensive time configuration
Configuration of salary structure & multiple OT rules to fit the workmen payroll
Contractor head count & deviation reports to integrate with billing system
Payroll can be configures as per agreement with union
Total weekly hours worked, if exceeds compliance hours for a worker, can be integrated with access control to raise a flag. Thus managing work & life balance
Interested to know how you can implement this to your own business? Connect with us at https://www.opportunehr.com/
The truth is, with our 15% automation principle, we have designed OpportunrHR HRMS in such a way that it gives high level of flexibility and configuration possibilities. This makes sure you get an HRMS solution which addresses your industry issues.
When other HRMS can't tackle these manufacturing industry scenarios, how is it possible for OpportuneHR?
It's all possible because of our–
Scenario Based Design
Powerful rule engine: High level of configuration possibilities.
Industry Specific Scenarios are tackled by our micro-feature layers
Decision Friendly Reports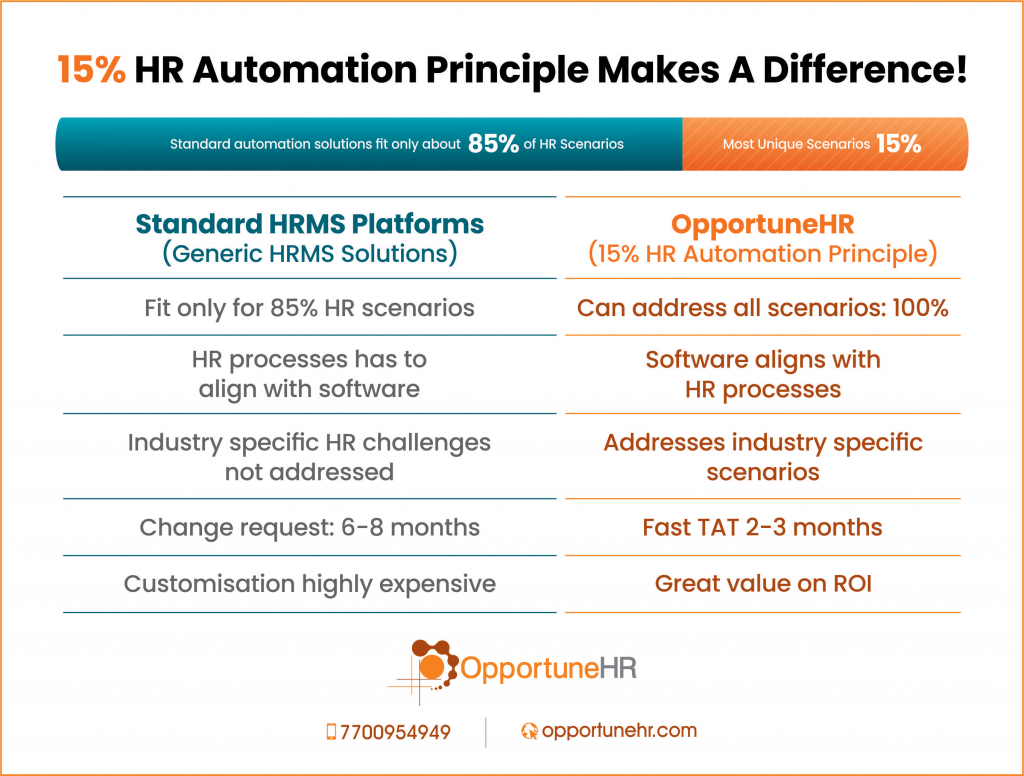 You can think of our HRMS solution as a hybrid solution : A 15% Automation principle platform that also gets you high degree of customised possibilities.
As the platform runs on cloud, and as per SaaS model, an organisation doesn't need heavy capital to implement it. Updates, upgrades happen on a regular basis and the platform is always up to the mark.
In fact you get a solution which is proven and tested by the industry and runs from the day one for you!
So, honestly there is no reason to go for developing a customised, in-house HRMS solution.
OpportuneHR comes with a user friendly mobile app. This ensures that even the blue collar workers can use with ease. And the managerial employees, like production in-charges, engineers and the CFO team get a good employee experience.
Our platform use gamification. The gamified system encourages a healthy competition between employees. Points are awarded for following the company policies and compliances. When an employee leads the leader board, it works as a motivation for other to follow the same path, thus increasing compliance and employee engagement in the organisation. A vital factor in manufacturing organisations.
Patented proxy finger rejecter increases productivity. The proxy attendance issue, often prevalent in manufacturing plants, is solved by using the modern biometric devices from OpportuneHR partners. These devices reject even the sophisticated silicon rubber thumbs.
All these and other advanced features are not easy to implement in-house, and costs too much.
The question is, why to go for such heavy investments when all your needs are satisfied by our HRMS!
Summary:
OpportuneHR offers a highly configurable HRMS solution on cloud. The deep layer of automation and micro-features make it possible to address even the toughest HR scenario in manufacturing industry. If there are some outliers, even that is taken care of OpportuneHR team.
So, manufacturing industry doesn't need to develop an in-house, expensive HRMS solution. There is really no need to go for a customised solution. Our HRMS software is all you need.
(Visited 172 times, 1 visits today)