All business owners know this well– nothing motivates an employee more than money! They work hard in anticipation of getting their salaries on the promised day. At the same time if they don't get salary on the day, it demotivate them.
But they don't understand the complexities that payroll team faces.
To disburse salaries on a given date is one of the biggest challenges for the HR team. It should also be accurate and follow payroll compliance. Overall, a cumbersome process.
The online payroll system is the answer!
In this article let's see how online payroll system makes payroll team's job easy, increases their efficiency and guarantees accuracy and compliance.
What Is Payroll?
Payroll is a process of distributing salaries to employees or professionals working for an organization for designated hours. Although it seems like simply paying salary on the designated date, it is not that simple.
What Payroll Problems Online Payroll Software Solve?
Payroll involves an employee list of who gets paid, including part-time employees. The process consists of creation of a payment policy, payslips structure, gross and net salary calculation, post-salary deductions, and ultimately releasing the salary. Moreover, it does not just end here. The payroll process also involves filing and depositing PF, TDS, etc. to various authorities concerning each employee.
As mentioned above, payroll has two significant components, namely, gross and net
pay. The general calculation is as follows:
Net salary = gross earnings– deductions
This complex process requires tremendous man-hours and various processes. That's not all, legal compliance, labour law adherence, and statutory compliance must be adhered to.
Online payroll management system: HR Tech for your Human resource department
With such complexities, payroll mistakes happen all the time. Particularly when it depends on manual processes, it causes delays in salary payments and affects the morale of your organization, ultimately leading to losses.
That's why it is advisable to avoid manual calculations, Excel sheet mergers,and desktop software.
It is essential to have a robust cloud-based payroll management system, to
prevent these issues and enhance business productivity.
Payroll management system
A payroll management system is a cloud-based, online platform that processes the payroll of the entire organization using software tools in a few minutes. The online PMS can track and keep payroll records using different inputs like tax calculations and deductions, leaves, ESI calculations, and more. The platforms also calculate payroll amounts and manage taxes using an effective solution for smooth business functionality.
The PMS also automates payslip and payroll report generation. Advanced payroll software comes with cloud access and multi-device functionality. A good payroll management software customizes payroll requirements depending on the business's nature and size. Whether you are a business with 100 employees or 10,000, a payroll system can be customised for your unique needs.
Features of a cloud-based online payroll management system

With the importance of an effective payroll management system established, an efficient Payroll software offers unique features like:
Seamless integration of different payroll factors
An online payroll management system considers employee attendance- a prominent factor in the salary calculation.
The attendance record and marking reduce admin work and feature everything on one comprehensive platform. In addition, automation eliminates errors and their possibility.
Automates employee pay cheque by syncing employee bank data
The payroll software maintains a data file of employee bank details for automated payment transfer on the respective date.
It is a tedious component of payroll and automation can improve its efficiency. The Payroll software can calculate net salary and expenses without manual interference. The efficient system records all the past pay cheques and tallies all other accounting requirements.
It effectively integrates tax management
The in-built tax management system calculates different taxes automatically using various parameters. The organization needs to pay the tax amount to the respective authority, and the software ensures it is done on time.
The payroll process also involves abiding by certain laws and updating the system as per new government rules and regulations. While desktop software takes care of salary calculations to some extent, rapidly changing
compliances are a headache for HR. Online payroll software automates the legal and statutory compliance, ensuring the organization and employees abide by the law.
A payroll management system needs to have omnichannel accessibility. Cloud-based payroll software offers 24 x 7 accessibility. Moreover, it also guarantees data security. The large database of these systems stores big data and features multi-device accessibility.
OpportuneHR: The perfect example of a leading online payroll software
OpportuneHR is an award-winning HR tech company. It's HR domain knowledge, coupled with technology expertise makes sure it works smoothly in real life scenarios.
Cloud-based online payroll management software OpportuneHR performs all-around work for all types of organizations and industries. Whether you are in the manufacturing industry or hospitality, IT business or healthcare, OpportuneHR can customise for your unique requirements. It eliminates the need to perform redundant tasks manually and ensures a timely salary disbursement.
In addition, the system offers the following benefits:
1. The automated payroll system saves time
The automation features of this payroll software ensure HR personnel and other accounting staff save potential time performing manual tasks. The organization only needs to set up the software in the beginning, and other processes follow. Opportune team's support in implementation of the payroll software is exemplery.
2. The system features high affordability
The system processes complex tasks and ensures optimal handling and timely completion. The automated features guarantee faster processing, eliminating the need to make additional investments for onboarding human resources.
In addition, the software generates online payslips and forms, eliminating conventional paper-dependent processes. The cloud-based software
eliminates the hardware requirements. Organizations only have to opt for one-time costs followed by nominal fees, which are less than traditional investments. All these benefits ultimately lead to cost-effectiveness.
That's why startups and SME business also use this enterprise level payroll management system.
3. Addresses remote working challenges
Cloud-based online payroll management system offers online capabilities, making it adaptable for different businesses. One prime benefit of these systems is their remote accessibility. It supports remote workforce management with features like attendance marking. Geofencing, a perfect solution for field force.
Additional benefits:
It eliminates the need for onboarding experts
Seamless operations
Scalability
Easy employee access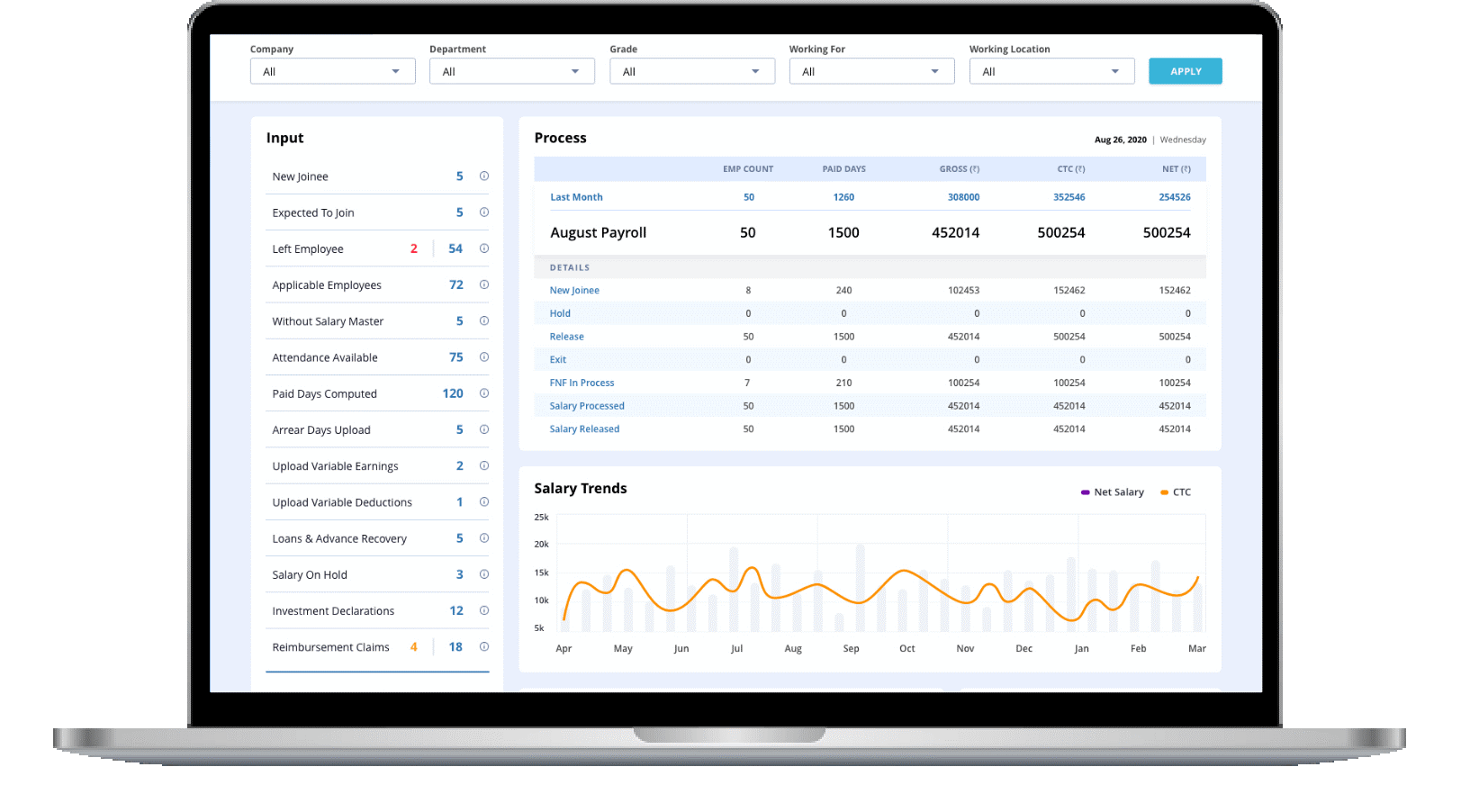 OpportuneHR – the best payroll for your organisation
Consistent salary disbursement guarantees employee retention and satisfaction. Hence, OpportuneHR ensures effective salary management with
features like:
One-Click Payroll: The salaries can be disbursed on any given day. Organizations simply have to decide the salary date. With the power of a click, payroll processing is done. The system is accurate and fast.
Highly Configurable Payroll System: Businesses can define their custom parameters like salaries, pay grades, and job roles. It also offers additional parameters like Flexi-CTC, taxation, and payslips
Comprehensive Payroll Dashboard: Keep track of all payroll requirements using a comprehensive dashboard to offer information
about new onboarding, employee exits, arrears, F&F, increments, month-on-month payroll analysis, trends, etc.
Payroll Controller: HR personnel can review the final salary register, lock monthly payroll, and generate quarterly TDS reports, along with compliance payments.
Tax Compliance: Tax compliance are complicated, especially with factories and offices in different states. A payroll software takes care of these all with no hassles.
Final thoughts!
Online payroll software takes a lot of administrative burden away from the HR team. Payroll processing automation is a prominent aspect of workplace productivity. Hence, it is essential to have a payroll management system that optimizes all these processes and ensures employee satisfaction.
Accurate salary disbursement with no discrepancies, and transparency, helps retain good talent in the organisation. In particular, the young workforce wants modern software and self-service
OpportuneHR is one among the best payroll solutions. As a technologically advanced online payroll management system, it guarantees high
productivity. For instance, we can process 30K payroll in under four hours, 30K TDS computations in one hour, and F&F calculation for 3K employees in twenty-eight minutes. The user-friendly mobile app is the icing on the cake.
To know more, contact us today!
(Visited 122 times, 1 visits today)