Mumbai is called the commercial capital of India, and for a reason.
It is the seat of the most significant commercial institutions like the Reserve Bank of India and the Bombay Stock Exchange.
It's also fair to call Mumbai the corporate hub of India as it is the corporate headquarters of many a corporate houses. And in that sense, it influences the business decisions and corporate culture of India.
Opportune Technologies, the leading HR Tech company, the force behind the best hrms software in Mumbai, is also headquartered here.
Here are some facts, figures and benchmarks that demonstrate that OpportuneHR is not just the best HRMS solution in Mumbai, but in India.
Best HRMS in Mumbai should handle the pace of the Metro city:
Expectations of Mumbai employees is higher than in other places. They also travel a long distance to reach the workplace. So they need an easy, user friendly HRMS, attendance capturing, leave application etc should happen on the go.
Under such circumstances, not just a feature list, but a great user experience is also a must.
OpportuneHR is the true response to such challenges. It is a complete bundle of Biometric devices, seamlessly integrated with best hrms platform that Mumbai can boast of.
The best hrms for Mumbai should provide complete employee life cycle management:
As the Mumbai HR managers take care of not just Mumbai, but various manufacturing units and offices in Maharashtra and other parts of the country, they require a HRMS which takes care of hiring to exit life cycle of an employee with the company.
HRM for Mumbai must be smooth, seamless and ultra real time:

When the city runs fast, who has the time for slow data uploads and interruptions?
OpportuneHR offers push technology enabled biometric devices, which seamlessly transfers data to our attendance platform. That's why the dashboards show ultra real time presence on the shop floor, offices, retail outlets and warehouses.
Mobile Application: Because Mumbai is always on the run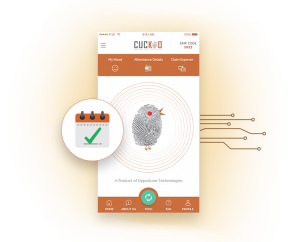 For any good enterprise system, Mobile Application is a must. Opportune mobile app is available in Android as well as iOS. Our user friendly mobile application runs even in areas where the internet is weak. And even captures attendance in offline mode!
Employees whether they are in a remote factory place in Bhiwandi, or an office in Andheri, can use it for tasks related to leave, attendance and other useful features.
Best Payroll Software In Mumbai
There is nothing like OpportuneHR when it comes to employee salary management. With a powerful payroll controller, the HR team is in command all the time.
You can guarantee payroll generation on a given date. Want one click, zero error payroll? OpportuneHR is the answer.
Some of our HRMS performance benchmarks are: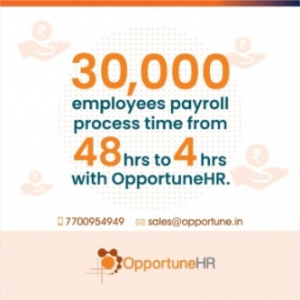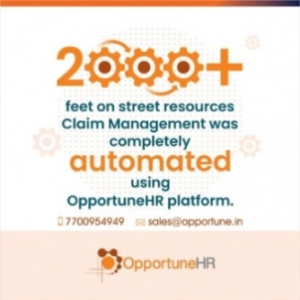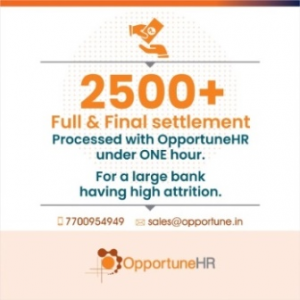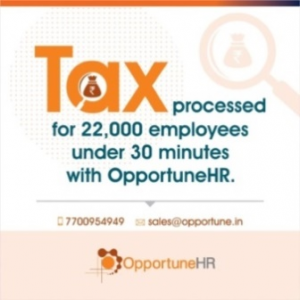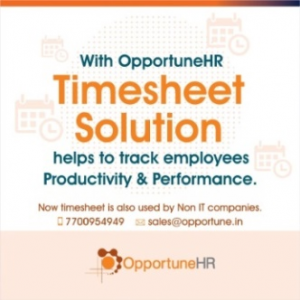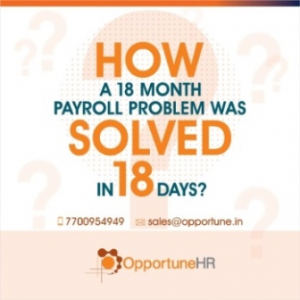 Let's meet for a demo and see the difference.
Attendance Management Platform:
Our employee attendance module, isn't just a module. It's industry leading attendance platform with gamified features. With this capability it makes attendance marking more than a compliance practice. It is fun! And promotes employee engagement.
Looking at the increasing reliability on the contractor workforce, contractor attendance is also seamlessly integrated with the payroll system.
Leave management: Our powerful rule engine helps you create leave policies. Not just for Mumbai and Maharashtra, but for all units in the country.
You can manage leave as per type. Leave requests and multiple level approvals are enabled. Leave ledger, holiday list, and comp offs, you will get everything in OpportuneHR.
Cutting Edge technology for HR teams: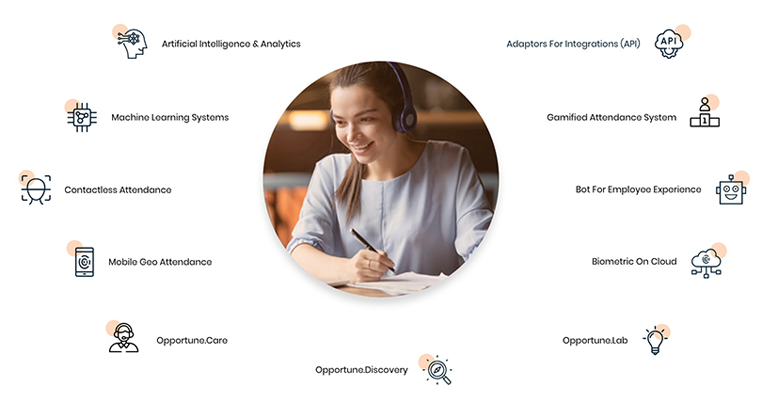 Artificial intelligence, data analytics to machine learning, OpportuneHR is one of the pioneers who introduced it to HR tech in India. And that too, in a user friendly way.
Statutory Compliance and policy updates
It's easy to produce statutory compliance reports as per state regulations. So, while units in Mumbai get reports as per the state of Maharashtra, any offices or units in other parts of the country can also have quick access to reports for their own state requirements.
Opportune.Care: world-class customer care for you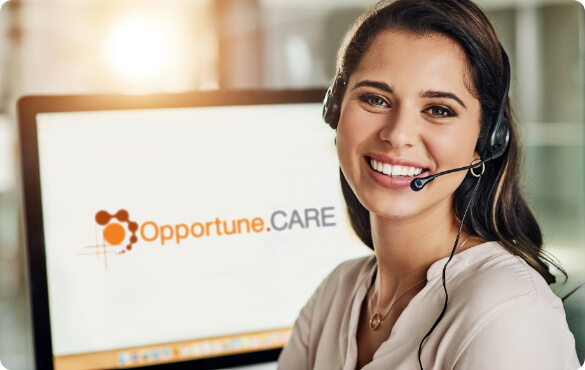 Opportune.Care is our approach that goes beyond problem solution. Our customer support team helps you in preventing problems!
In a nutshell: All core features, with a great user experience:
OpportuneHR presents to you not just attendance, payroll, and leave management software. Its powerful platform enables HR managers with dashboards as per user and manager rights.
The HRMS platform is user friendly, and with gamification features, encourages employees to follow HR processes.
All HR processes, systems and scenarios are addressed. With our 15% HR automation principle, we help you address even human resource management scenarios unique only to your organisation.
Which means HR teams in Mumbai, in their limited time and high level of work pressure, can delegate mundane tasks to automation, and are able to deliver the best HR experience to employees,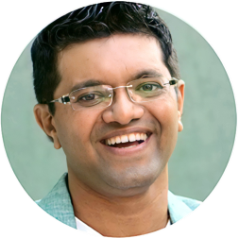 Mr. Dhwani Mehta, The Founder Director, Opportune Technologies says–
Mumbai is the crucible of cultures, and industries. It's not just the financial capital of India but human resource capital, too. From manufacturing to hospitality, healthcare to IT industries, Banking and Insurance to creative industries like advertising, fashion and Bollywood shows the widest range of HR resources in the country…And Opportune's industry specific solution focus is true testimony to this spirit of Mumbai.
(Visited 479 times, 1 visits today)